Decaf Coffee Beans | Organic | Mexico
Regular price

Sale price

$18.00
Smooth - Sweet Toffee - Soft Orange
Your flavour punch without the caffeine hit.
For those times when you want all the flavour punch, without the caffeine hit…welcome to our freshly roasted organic decaf coffee beans! We roast this super tasty decaf with as much love and attention to detail as every one of our small-batch specialty coffees. And with some help from the good people of Swiss Water and their genius, 100% chemical-free process that retains all the tasty goodness, while removing only the caffeine. 
This coffee is super sweet - think toffee. It has a beautiful soft orange acidity and a creamy body.
| | | |
| --- | --- | --- |
| Chocolatey | | Wild & fruity |
| Mild acidity | | Bright |
| Light roast | | Dark roast |
Note: When signing up for our decaf subscription, the coffee's origin may change occasionally.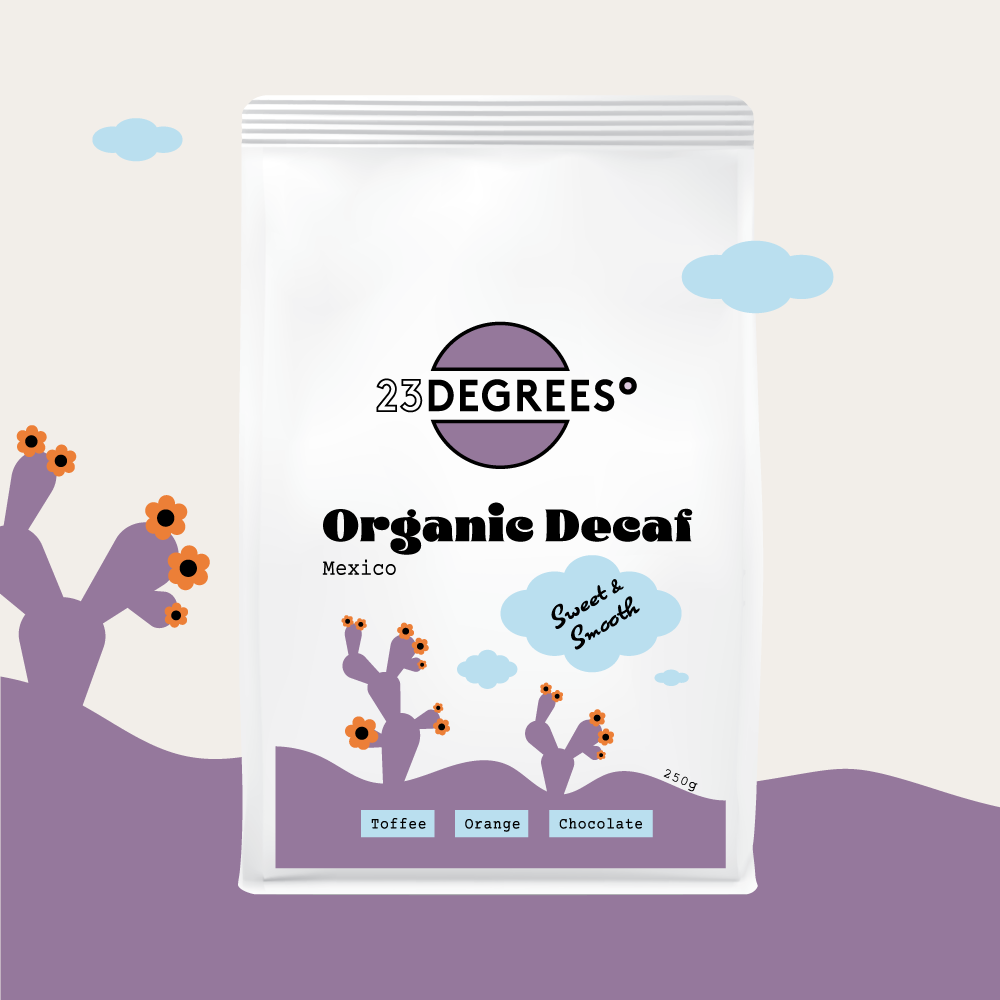 More amazing stuff to know
About the coffee.

Origin: Mexico
Decaffeination process: Swiss Water Process
Processing method: Washed
Varietal: Arabica
Farmer certifications: Certified Organic
Brewing methods that work best for these decaf coffee beans.

Enjoy your organic decaf coffee beans across a range of different brewing methods: espresso, plunger, stovetop, Aeropress and batch brew.
Try our brew recipe. Or create your own.

Recipe

We've tested these decaf coffee beans and created an espresso recipe you'll love. Ideal for drinking with or without milk. If you brew for a long black, try a 1:2.2 ratio instead of a 1:2 ratio.

Dose: 22g
Yield: 44g
Extraction ratio: 1 : 2
Extraction time: 28 seconds
Water temperature: 93.5oC

About the recipe

We used the Victoria Arduino Eagle One Prima and the Mythos MYG75 grinder to create this recipe for you. Try to replicate this recipe on your equipment or create your very own.

The dose is the amount of ground coffee that goes into the filter basket of your portafilter. Filter baskets come in different sizes. The size of your portafilter determines how much coffee (fill weight) it can hold. You don't want to overfill or underfill the basket, as it will compromise the extraction.

The yield is how much delicious coffee you extract or, in order words, ends up in your cup.

And because you may have a different basket size than ours, you want to use a yield based on your dose and the given extraction ratio.

The extraction time tells you if the water has enough time to extract all the tasty goodness in the coffee. Adjusting your grind size will help you to achieve the suggested time in our recipe. You want to grind finer if you extract a yield in a shorter time. And grind coarser if you achieve the yield in a longer time than suggested.

Join our training courses

Want to learn more about how to extract a tasty espresso? Join us for a fun and hands-on espresso training course at our roastery.
Does decaf contain caffeine?

99.9% of the caffeine are removed throughout the Swiss Water decaffeination process. That's why every decaf production is sampled and tested in the Swiss Water lab to ensure it meets this threshold.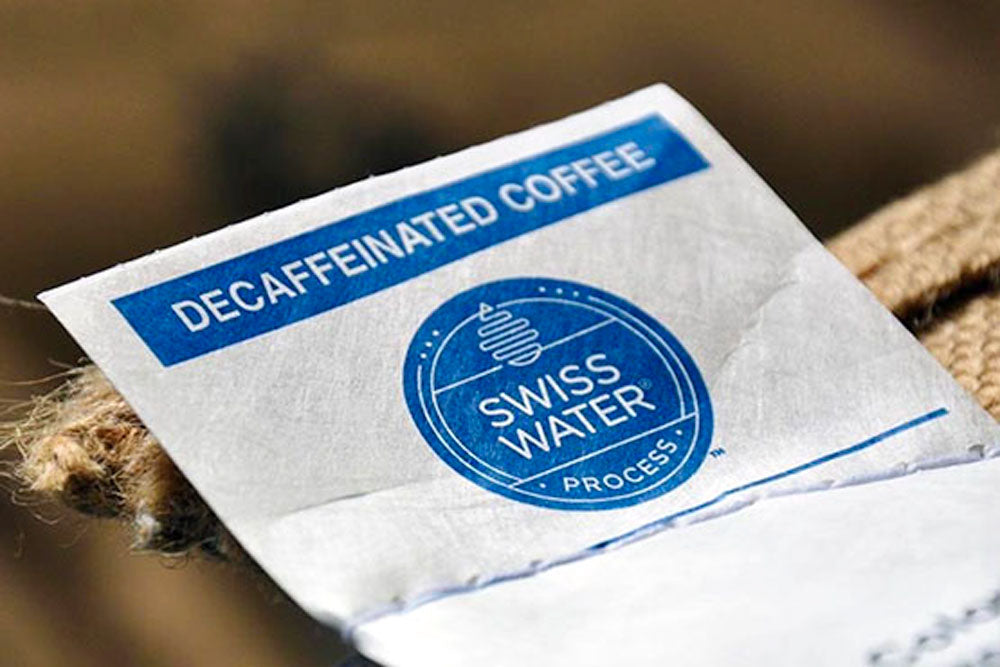 What makes our decaf coffee so tasty?
Quality coffee beans
Decaf is coffee - just without caffeine. For selecting our decaf coffee beans, we apply the same rigour as we apply to any of our other coffees. We look for sweetness, unique flavours, body and some sparkle to make the cup balanced and interesting.
Our roasting approach
Every coffee roasts differently, and nothing holds truer than roasting decaf coffee beans. Too often, you may have come across decaffeinated coffee that oozes oils. Not very inviting, right? The coffee beans are soaked in water throughout the Swiss Water Process, which softens the bean cell structure. The softer coffee beans absorb heat faster throughout the roasting process. And if roasted too hot or for too long, they can become noticeably oily. That's why we apply a gentler roasting approach to our decaf coffee beans so that those tasty oils won't leach out and your decaffeinated coffee tastes delicious.
The Swiss Water process: Chemical-free and tasty.
How is coffee decaffeinated?
Ever wondered how the caffeine is removed from coffee beans?
Now, the biggest challenge in removing caffeine without removing the other tasty soluble compounds. The Swiss Water process uses a clever ingredient - the caffeine-deficient green coffee extract concentrate called GCE.
GCE is created by soaking green coffee beans in very hot water. The soluble compounds including caffeine) are dissolved in the water throughout that soaking process. The water is then passed through a carbon filter. The larger caffeine molecules are caught by the filter and the remaining solubles pass through the filter. The filtered water now contains soluble compounds without caffeine and is called green coffee extract or, in short, GCE. This extract is used to decaffeinate a fresh batch of coffee.
A batch of fresh coffee beans is placed in water supersaturated with soluble coffee compounds minus the caffeine – the GCE.
Now with the fresh coffee added, there is an imbalance between the solubles in the coffee beans, which include the caffeine and the GCE water, which contains all the solubles except for caffeine. To create an equilibrium, the caffeine from the coffee beans slowly migrates (leaches) into the GCE water until the caffeine in the coffee bean water and in the GCE water is in balance.  After the caffeine leaches from the coffee beans into the GCE water, it is passed through carbon filters to trap the larger caffeine molecules.
This process is repeated using freshly flushed GCE until the caffeine is removed. The clever thing is that the tasty solubles of the coffee remain in the coffee bean, so they don't leach into the GCE water. That's because the GCE water is already saturated with those soluble. Clever, right?   The result is decaf coffee beans without the loss of flavour.
What our customers say.
I'm hooked! I purchase the decaf and honestly have to say it's the best I've tasted. I can't believe how quickly my order is dispatched and delivered, and the personalised hand written notes I receive with each order are such a cute little touch. If you're looking for decaf, look no further. I also have no doubt the rest of the range is equally outstanding! Love, love, love 23 Degrees Coffee xx

S. S.

They have the best natural swiss-water method organic decaf coffee. Customer service is superior and friendly. Response times and postage times are quick.

All thumbs up from me!

Samual L.

I thought I'd try to reduce my coffee(caffeine) intake, I'd never been a fan of decaf due to it all tasting like an Italian espresso blend from the 90s. 

Enter your (23 Degrees) decaf, wow this completely changed my mind about how decaf could taste, it made me think that coffee was possible without the caffeine.

Jono W.

Just a really quick note to say that it was the best surprise to see our order turn up on our doorstep this afternoon. I know we're pretty close to you guys and just wanted to send an email of gratitude. We devastatingly ran out of THE BEST DECAF IN THE WORLD yesterday (because we went through it far more quickly than imagined) and so I am very happy to be back on the good stuff for tomorrow morning's routine.

Kate S.